Um, yes. I am a recent convert to animal print, especially in accessories. I love these flats, which have a lovely ankle strap that prevents the shoes from slipping and a cap toe to make it a little more special. The price is a bit steep for flats, but I have found Madewell to make quality shoes. If you are looking for cute ankle-strap flats that are a little less fierce,
these
are also lovely. I particularly like the slight wedge, which "elevates" them to a new level. (Terrible.)
Today's Daily Gimme is going to be a two-fer, because I am very much looking forward to the Target/Neiman Marcus/CFDA collab tonight and tomorrow. Here are the pieces I have my eye on:
Definitelys: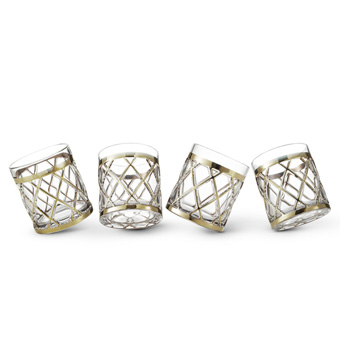 Altuzarra Double Old Fashioned Glasses, $49.99 for 4


These tumblers are exactly what I have been looking for all of my life. Although the shape is not what scotch

connoisseurs recommend, they're still classic. The 24-karat gold plating and the etched patterns make it special and a touch girly.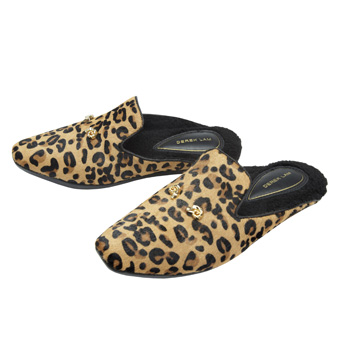 Derek Lam Slippers, $49.99
I had originally purchased some
Muk Luks
from Target, but they were too expensive for the quality. Now I'm hoping to score some Derek Lam slippers, which feature gold embellishment. I can look less like a hobo when I go pick up my takeout from across the street.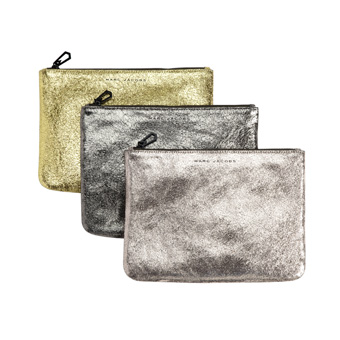 Marc Jacobs Pouch, $69.99 each
These are Marc Jacobs pouches! Made of real leather! And they're shiny! Can I please have all three? I guess if I have to pick I'll either go with the gold or the gunmetal. Sigh.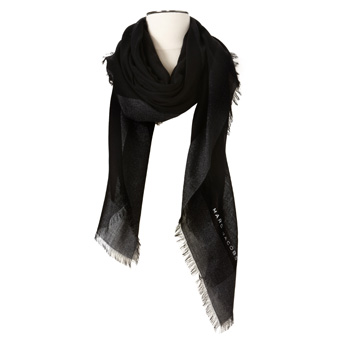 Marc Jacobs Scarf, $69.99
This scarf is probably my favorite thing in the whole collection. It's a wool-cashmere blend and it's a chic black/gray. I can see myself wearing this scarf a lot, especially when I get tired of wearing my more colorful scarves.
Brian Atwood Leather Gloves, $49.99
Again, real leather. I've also seen long leather gloves on more and more people and I really like the look, even if it is a bit too glam for everyday life. I think the ombre studs are very unique and something I haven't seen before. However, this is definitely a product that requires close, in-person examination before deciding whether it's quality.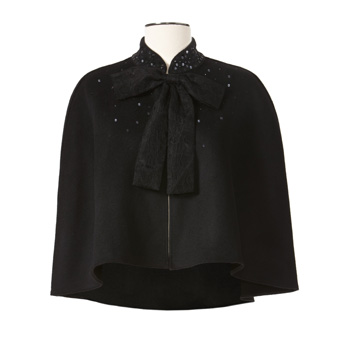 Prabal Gurung Cape, $79.99
I really like this, but guys, when am I ever going to wear a cape? When I go visit the Phantom of the Opera? Also, at nearly $80, I'm not sure this cape should have *sequins* on it. I also worry that the "one size fits all" mantra will fail me, considering my linebacker shoulders. However, I do like pretty much anything with a bow on it.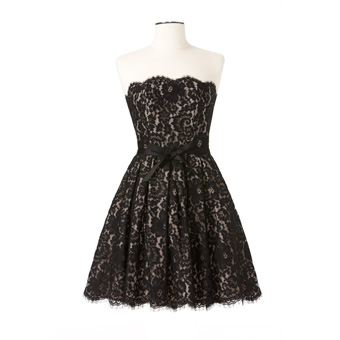 Robert Rodriguez Dress, $99.99
This dress is pretty uninspired. I've seen dozens of dresses like this. However, I don't actually own a single dress like this. I'm concerned about the shape; I never look good in strapless shirts (aforementioned shoulders) and the flaring might make me look hippy. However, the Chantilly lace is beautiful, and a LB(lace)D is essential in any closet.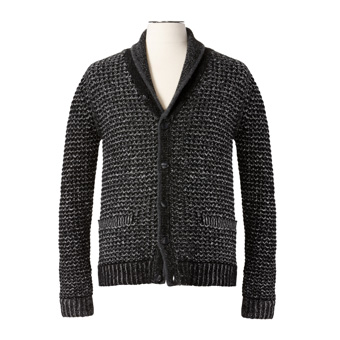 rag & bone Men's Sweater, $69.99
Well, obviously this is for Scot. He says he doesn't like it. We'll see, mister.
If you've never been to one of these high-low collabs, you probably think you can waltz in after you wake up and still pick up everything you wanted. WRONG. In order to check everything off your list, you need a two-prong plan of attack. First: online. I've already started a Target account and logged in. I'll start checking the website every few minutes around 10pm ET tonight to see if they start putting stuff up. Also, just because something is in your shopping cart doesn't mean it's secure. Once you have enough to get free shipping, check out. If you'r really committed, you can split the list up and have two people shopping online. Be patient--the servers might crash. Hopefully I'll be able to get everything online that I don't need to try on. However, for things like the dress and the gloves, I will need to go in store.
That's the second prong. I'll start lining up at Target at around 6am or 6:30am tomorrow morning. My Target opens at 8am. Wear warm, comfortable clothes (including warm boots and thick socks). Bring coffee and something to read. Bring a partner to carry your bags and guard your cart while you go into the heart of darkness. Bring balls of steel because you'll need them. Bring a plan and a good knowledge of your Target's layout. (If you're really intense/crazy, you can scope out the Target the night before.)
Like a drug deal (I imagine), the whole thing goes down pretty quickly once it gets started. If you wear slip-on shoes, leggings and a tight t-shirt, you don't even have to go into a dressing room. Also, you could just not have any modesty and strip on the Target floor (I've seen it). Thankfully, Target has an excellent return policy, so make sure you reevaluate all of your purchases when you get home. Take a nap, eat some food, and reevaluate. Sleep on it. Maybe wait a week. Then reevaluate. I will let y'all know what I end up getting. If you don't hear from me after tomorrow, know that I died for a worthy cause.